Testimonials about How to be Happy Giving Your Money Away
Comments from Church Leaders Who Have Used Dr. E. M. Clark's Book on Fundraising
---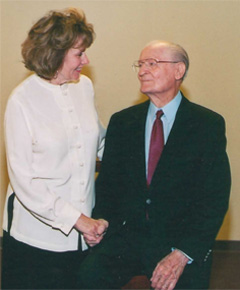 After reading this book, you will never again view fundraising as a burdensome task.
Dr. Richard D. Dobbins, Founder
EMERGE Ministries, Inc.
Akron, OH
Click Here to purchase book at Amazon
---
While seeking God for direction to take for the capital campaign, we received a copy of E.M. Clark's book How to Be Happy Giving Your Money Away. When I read this book, which outlines procedures, presents personal testimonies, and inspires faith, I knew this was the direction God was leading us to proceed. So I purchased copies for our board and staff to read. The board members were so inspired by this book that we ordered 1,500 more to give to the families of our congregation. The reaction to the book by the congregation was amazing. Person after person called the office and wanted to know how soon they could start giving. We raised over $3,000,000 in one-year pledges. In addition, our offerings have grown considerably…
Pastor George W. Westlake, Senior Pastor
Sheffield Family Life Center
Kansas City, MO
---
Dr. Clark writes with a pen tempered by his experience as a church leader for over six decades. Known among his peers as one who has a contagious kind of faith, Dr. Clark is recognized as a leading voice in church development with a specialty in the 'how' of financial stewardship. This book is the result of his years of experience and brings a resolve to the financial needs of the church with his practical, but effective, understanding of the cause and result process.
M. Wayne Benson, Board Chair and President
Emerge Ministries
Akron, OH
---
This book could change your ministry. The principles we have learned from Dr. Clark have not only helped our church raise money to purchase land and construct a building, but they have resulted in a dramatic increase in our regular giving.
John Lindell, Senior Pastor
James River Assembly of God
Springfield, MO
---
This is not a "get-rich-quick" scheme–quite the contrary. Dr. Clark takes the revealed Word of the Lord and clothes it in the nuts and bolts of life.
Charles Cookman, former District Superintendent
North Carolina District
Assemblies of God
---
Dr. Clark has been very careful to outline proven steps and ways that will cause resources to be available to meet the needs for the expansion of the kingdom of God.
Thomas E. Trask, former General Superintendent
The Assemblies of God
---
God has gifted E.M. Clark in the area of fundraising. Out of the wealth of his experience, he shares challenging insights that will be helpful to all who read this book.
G. Raymond Carlson, former General Superintendent
The Assemblies of God
---
This book, with its testimonies of God's faithfulness and summary of biblical principles will bless the people of God anywhere, anytime, and in any culture.
Dr. Robert H. Spence, President
Evangel University
Springfield, MO